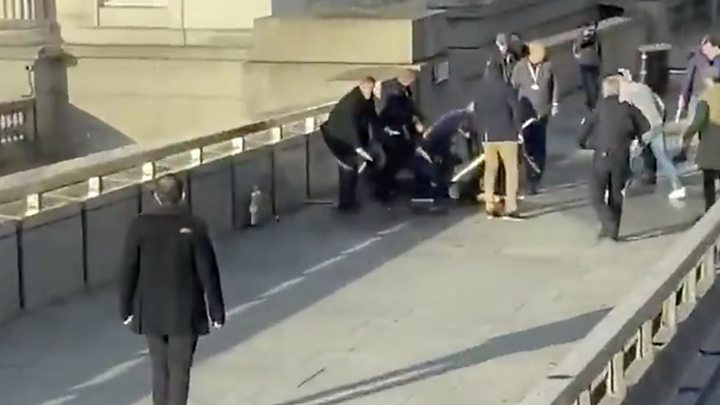 A man who stabbed two people to death and wounded three others in a "terror-related" attack was shot dead by police on London Bridge after he was held down by members of the public.
The suspect, Usman Khan, 28, had been released from jail on licence in 2018, half way through a 16-year sentence for terrorism offences.
He was convicted in 2012 after plotting with a group from Stoke-on-Trent, London and Cardiff.
A property said to be his home in Wolverhampton Road, Stafford, is being searched by police.
NHS England said one person was in a critical but stable condition, a second victim was described as stable and a third person had less serious injuries.
The Queen has sent "thoughts, prayers and deepest sympathies to all those who have lost loved ones" on behalf of herself and Prince Philip.
What happened?
The attack began at 13:58 GMT on Friday at Fishmongers' Hall, at the north end of London Bridge, where a conference on prisoner rehabilitation was taking place. Khan was attending.
It started inside the building before proceeding on to London Bridge, where Khan was held down by members of the public
Two men can be seen in a video holding the attacker back using a whale tusk, seized from a wall mount, and a fire extinguisher spray, before others step in to pin him down. One man was seen walking away holding a large knife they had retrieved.
He was wearing what is thought to have been a hoax explosive device when he was shot by police officers.
What do we know about the attacker?
Met Police Assistant Commissioner Neil Basu said Khan was released from prison in December 2018.
Khan had been living in Stafford, where searches were being carried out on Saturday.
He had been jailed in 2012 for plotting to blow up the London Stock Exchange after he and three men from Cardiff, discussed attacking the Exchange, pubs in Stoke and, separately, setting up a jihadist training camp in Pakistan.
The conspiracy developed over six weeks in late 2010, before the police arrested Khan and the others, their court case was told.
Khan was one of three of the men initially given indeterminate sentences for their part in the plot. The sentences were revised on appeal.
The Parole Board said it had no involvement in his release from jail.
Whitehall officials told BBC security correspondent Frank Gardner the police action was spontaneous and reactive and was not intelligence-led.
What have police said?
Met Police assistant commissioner Neil Basu confirmed the force was treating it as a terrorist incident.
The attack began at a criminal justice event called Learning Together at Fishmongers' Hall and the Met is appealing for people attending the conference to contact them.
A wide police cordon would remain in the area for some time as police carry out searches "to ensure there is no further threat", he said.
Police patrols in London have been stepped up as a result of the attack.
Where did it happen?
A number of buildings near the bridge, including King's College London and the News UK building opposite the Shard, were put into lockdown.